Space@VT News
May 2021
2020-2021 Additions to Space@VT
Over the past year, we have welcome three new researchers to our Center with the additions of Sheyda Davaria, Dr. Lenny Smith and Dr. Greg Young.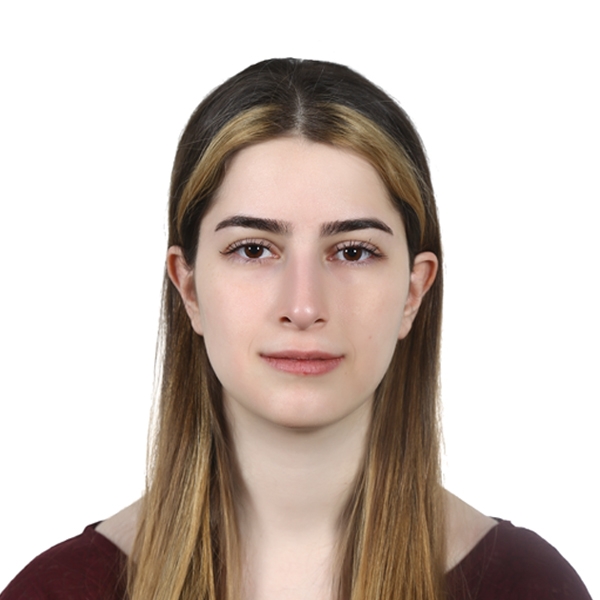 Sheyda Davaria joined the Center for Space Science and Engineering Research (Space@VT) as a Research Associate in January of 2021. She received her Ph.D. in Mechanical Engineering at Virginia Tech in Dec. 2020. Sheyda was working in the Vibrations, Adaptive Structures, and Testing (VAST) Laboratory and her Ph.D. research was focused on developing active artificial hair cell sensors inspired by the cochlear amplifier. Her main areas of expertise are in Nonlinear Dynamics, Modal Testing, Vibrations, and Controls. In addition to performing research, Sheyda instructed or co-instructed vibrations courses. She was awarded 1st place in the Virginia Tech College of Engineering's Paul Torgersen Research Excellence Award in 2019.

Dr. Lenny Smith joins Space@VT from the Electrical and Computer Engineering department at Virginia Tech with research and education interests in statistics.  Dr. Smith gave a fun and very informative Space@VT Seminar, available to watch on YouTube, in the Fall of 2020.
Dr. Greg Young joins Space@VT from the Aerospace and Ocean Engineering department at Virginia Tech with research and education interests in hypersonics, energy systems and propulsion.
December 2020
Dr. Bob Clauer and undergrad students from Virgnia Tech joined students from University of Albany and University of Michigan on the summer 2019 science expedition to Greenland.  Their trip was captured in a spetacular video by the University of Michigan that was posted in December 2020.
May 2020

NASA recently funded two new rapid-turnaround projects focused on COVID-19. Jennifer Kaiser at Georgia Institute of Technology in Atlanta and Elena Lind at Virginia Tech in Blacksburg, are examining the pandemic's impact on air quality related to reduced airport traffic, read more.
April 2020
On Friday, April 24, Yuxiang (Phillip) Peng successfully defended his PhD dissertation entitled 'GNSS-based Hardware-in-the-loop Simulation of Spacecraft Formation Flight: An Incubator for Future Multi-scale Ionospheric Space Weather Studies.' Congratulations Phillip!
March 2020
From the edge of space, NASA's ICON satellite is transmitting images and data to science team, read more

.
January 2020
ECE's Scott Bailey's sounding rocket launched this earlier this week in Alaska. Congratulations Dr. Bailey and team on your outstanding achievement!
Aerospace Engineering Major Perfects The Launch Of High Powered Rockets, see video.
November 2019
Virginia Tech team aims to make space local and brings home top prize at competition, read more.
October 2019
Virginia Tech researchers contribute to upcoming NASA mission, read more.
Space@VT Launches Precision Pointing System to Near Space, read more.
August 2019
The Virginia SmallSat Data Consortium, a research center co-led by Virginia Tech and Old Dominion University, has been awarded a $1.5 million grant by the Virginia Research Investment Fund, an initiative to position Virginia as a leader in satellite and data collection and stimulate economic growth in the aerospace sector, read more.
Space@VT alum Dr. Evan G. Thomas receives Basu United States Early Career Award for Research in Sun-Earth Systems Science, read more.
July 2019
Space@VT alum Dr. Kshitija Deshpande wins prestigious NSF Early CAREER award, read more.

April 2019
Virginia Tech students watch as rocket blasts off from Wallops Island, WFXR News story.

Satellite built by Virginia Tech undergraduates ready for launch into space, read more.
February 2019
SuperDARN Lab Funded for Bistatic Observations of the Ionosphere -- In the fall of 2018, the SuperDARN HF Radar Lab in Space@VT was funded by the Air Force Research Lab (AFRL) to investigate techniques for performing bistatic observations of the ionosphere with SuperDARN HF radars.  This project will include Virginia Tech operated radars near Hays, Kansas and Dartmouth College operated radars near Christmas Valley, Oregon.  Bistatic radar observations open up many more pathways for measuring ionospheric conditions.
Space@VT Director Emeritus Wayne Scales named the J. Byron Maupin Professor of Engineering at Virginia Tech, read more.

Yuxiang Peng and Chirag Rathod presented with the Outstanding Student Presentation Award at the AGU Fall 2018 Meeting -- Peng's presentation is entitled "Satellite Formation Flight Simulation Using Multi-constellation GNSS and Applications to Ionospheric Remote Sensing" and Rathod's presentation is entitled "Computational Study of Irregularity Development in the August 21, 2017 Solar Eclipse." Congratulations to them for this outstanding acheivement.
May 2018
Space @ VT has been accepted as a Google Summer of Code (GSoC) organization for 2018. This program allows undergraduate and graduate students to propose to work on open source projects that benefit the open source community and the community related to the organization.
 
April 2018
College of Engineering inducts six members into the Academy of Engineering Excellence, read more.
Congratulations to Michael Sherburne, electrical engineering, for being named 2018 Outstanding Senior for the College of Engineering, read more.
 
January 2018
NASA explorer mission GOLD launches, read more.


December 2017
Hampton University Proton Therapy Institute Helps Virginia Students Prepare for Space Flight, read more.
 
November 2017
Researchers from music and engineering team up to turn big data into sound, read more.
 
August 2017
2017 Virginia Tech RockSat-X Launch a Massive Success, read more.

The Total Solar Eclipse: Once-in-a-Lifetime Opportunity -- For the first time in 99 years, a total solar eclipse will cross the entire country from the Pacific to the Atlantic, giving scientists and engineers a chance to conduct research on systems we rely on for communication, safety, and even transportation, read more.
Eclipse Hunters: Space @ VT team readying for eclipse -- Teams from Virginia Tech and Radford University have been readying for a while for what will be a few moments of prime research time on August 21. That's the day of the first total solar eclipse visible from the United States since 1979, read more.
 
March 2017
Space @ VT's Mark Psiaki, the Kevin Crofton Faculty Chair of Aerospace and Ocean Engineering, was recently selected as a Fellow of the American Institute of Aeronautics and Astronautics (AIAA), the world's largest aerospace professional society, read more.

Space @ VT  Welcomes Dr. Scott England -- Dr. England is an Associate Professor in the Aerospace and Ocean Engineering Department.  His research focuses on the interactions between planetary atmospheres and the space environment.  He is the Project Scientist for NASA's Ionospheric Connection Explorer (ICON), a co-Investigator on NASA's Global-scale Observations of the Limb and Disk (GOLD) mission of opportunity and a Participating Scientist on NASA's Mars Atmosphere and Volatile Evolution (MAVEN) mission.   

Dr. Michael Hartinger received 2016 NASA Heliophysics Supporting Research award. We will examine the dynamics of the Earth's radiation belts during large scale, monochromatic Ultra Low Frequency wave events using satellite observations, ground-based observations, and numerical simulations.


January 2017
Congratulations to Dr. Scott Bailey and his team on a successful sounding rocket launch at Poker Flat Research Range in Fairbanks, Alaska, read more.

For Graduate Student Katie Mott, Satellite Research Turns Math into Something Tangible -- Katie Mott remembers the first time she heard a conversation beamed off a tiny satellite not much bigger than a loaf of bread, read more.
 
November 2016
The Virginia Tech SuperDARN group is pleased to announce that Dr. Bharat Kunduri has joined the group as a postdoctoral fellow. Bharat was a graduate student here at Virginia Tech and defended his dissertation on SuperDARN-related topics in the fall of 2013, read more.
 
October 2016
Space Weather from a Southern Point of View -- A recently completed instrument array in Antarctica provides a more complete understanding of the near-Earth space environment, read more.
New Dish Installed at Virginia Tech Ground Station -- This week saw a major new development in the capabilities of the Virginia Tech Ground Station (VTGS), operated in partnership between the Hume Center at Virginia Tech and Space@VT, read more.
Congratulations to Magdalina Moses, who has been selected to receive one of only 15 prestigious 2016 Fralin Undergraduate Research fellowships from a pool of over 85 competitive applications.


September 2016
Mark Psiaki named Kevin Crofton Faculty Chair, read more.

Dr. Joseph Baker Honored as Virginia Tech Scholar of the Week -- The Office of the Vice President for Research and Innovation recognizes Joseph Baker, an associate professor of electrical and computer engineering in the College of Engineering, for studying the weather — in space, read more.
 
August 2016
Virginia Tech RockSat-X launched early on Wednesday, August 17, 2016, and carried a payload designed by Virginia Tech students. The payload experiment was a great success, sending data from 153km over the Atlantic Ocean all the way back to the Virginia Tech Ground Station (VTGS), view YouTube video.

Scientists Map Temperature and Density in Earth's Exosphere -- Data from multiple orbiters give a clearer picture of how density and temperature interact and what that could mean for future satellite missions, read more.
Congratulations to Dr. Scott Bailey on being promoted to the rank of Professor. Dr. Bailey is actively involved in: Aeronomy of Ice in the Mesosphere (AIM): Satellite mission to study polar mesospheric clouds, Observations of Nitric Oxide in the Polar Night (PolarNOx): A sounding rocket experiment to measure NO in the polar night through stellar occultation, and EUV Variability Experiment (EVE): A satellite experiment to measure the Sun's irradiance at UV and X-ray wavelengths.
 
July 2016
Protecting GPS From Spoofers Is Critical to the Future of Navigation -- GPS is vulnerable to spoofing attacks. Here's how we can defend these important navigation signals, read more.

Virginia Tech Ground Station Receives First Images -- The Virginia Tech Ground Station has begun initial NOAA weather satellite imagery experiments. During initial survey of the RF environment, NOAA satellite data was decoded using software-defined radio showing earth weather imagery. With financial support from the College of Engineering, construction on the Virginia Tech Ground Station began last fall, and is now outfitted with hardware required to communicate with multiple types of spacecraft, including small satellites. In addition to Hume Center faculty, approximately 35 student volunteers from across the College of Engineering have been involved in the development of the Virginia Tech Ground Station.  "The Hume Center will develop partnerships to manage and control smallsat spacecraft expected to be launched into low earth orbit in in the next two years," says Hume Center Director of Research Dr. Robert McGwier. The Virginia Tech Ground Station increases the university's capacity to conduct real world experiments in space and significantly impact student education through unique experiences. Moving forward, additional space communications capabilities will be built into the ground station to include radio astronomy, meteor scatter communications, and earth-moon-earth communications.
 
June 2016
Dr. Mark L. Psiaki recently joined AOE as Professor and Kevin Crofton Faculty Chair.  He comes to VT after a 30 year stint in Cornell's School of Mechanical & Aerospace Engineering.  His office and primary research home will be Space@VT.  His research interests are in the areas of Spacecraft attitude and orbit determination; GPS signal processing, navigation applications, and security; general estimation and filtering; remote sensing of the upper atmosphere and related inverse problems; and dynamic modeling of satellites, rockets, aircraft, and wheeled vehicles.

The Space Science Weather School -- Dr. Joseph Baker led a group of seven VT undergraduates to attend the first annual Space Weather Science School (SWSS) in Oslo, Norway, during the week of June 13-17. The SWSS is a 3 year collaboration between the University of Oslo, the University of Electro-Communications (Japan), and Virginia Tech. During the school, VT students learned about the physics of the space environment and how to analyze space weather datasets using the Python computer language. Each student completed a data analysis project on a topic of their own choosing, working alongside students from Japan, Norway and Sweden.
Dr. Bhuvana Srinivasan received an AFOSR grant to study plasma-material interactions relevant to hall thrusters using a novel model. She is also hoping to receive a DOE grant in collaboration with Tech-X corporation and Utah State University to study high energy density plasma physics relevant to experiments at Sandia National Laboratory.
 
May 2016
Virginia Tech data stations in Antarctica present new evidence about space weather, YouTube video.
MIST Completes Antarctic Chain and Deploys New Instruments --  During December 2015-January 2016, Dr.'s Hartinger, Xu, and graduate student Taikara Peek, deployed the final station of the chain of instruments on the East Antarctic Plateau. The station operates a fluxgate magnetometer, induction magnetometer, dual frequency GPS receiver and an HF radio experiment. Six stations are now operating autonomously using two-way communication links through Iridium satellites to return data. Analysis of the data has been published in leading space science journals. This breakthrough research was recently featured on the Virginia Tech homepage. 
In May 2016, MIST installed an autonomous Space Hazard Monitor (SHM) station in Odessa, TX. There will be more SHM deployed to Illinois, Oregon, and Minnesota in the next twelve months. These monitors improve prediction of geomagnetic disturbances, geomagnetically induced currents, and their impacts on power distribution systems.
 
April 2016
Congratulations to Dr. Scott Bailey and his 

colleagues as they were awarded the

NASA 2015 Robert H. Goddard award

as a team member on the Solar Dynamics Observatory. The award is "For operating the SDO, enabling scientific results, mesmerizing the public, and reaching full mission success."

Almost as soon as Virginia Tech researchers finished installing six data collection stations near the South Pole in January, their data provided new evidence regarding a controversial scientific phenomenon about Earths magnetic field and space weather, read more.

Virginia Tech SuperDARN student Nathaniel Frissell defended his doctoral disseration on Monday, April 25 to an examining committee of seven professors. Nathaniel is advised by Jo Baker and Mike Ruohoniemi, read more.
 
August 2015
Undergrad Radio Amateur Uses Reverse Beacon Network in Research Project,

 

read more

.

VT students launch experimental 3D printer on NASA rocket ship from Wallops Island, read more.
 
July 2015
Campers from Apple Ridge Farm visited Space@VT on Thursday, July 9, 2015 and spent time viewing many demonstrations and activities.

CEDAR Conference Participants Dig Into Science of Interest to Radio Amateurs, read more.
 
April 2015

Dr. Joseph Baker Receives W.S. "Pete" White Award in Engineering Education
Congratulations to Dr. Joseph Baker on receiving the W.S. "Pete" White Award in Engineering Education at the 18th annual Dean's Awards Reception on April 28, 2015. 
Dr. J. Michael Ruohoniemi named Faculty Fellow -- Congratulations to Dr. J. Michael Ruohoniemi on being named a Faculty Fellow at the 18th annual Dean's Awards Reception on April 28, 2015.
Wayne Scales receives Dean's Award for Service Excellence -- Wayne Scales received the Dean's Award for Service Excellence from the College of Engineering. Scales is the founding director of the Center for Space Science and Engineering (Space@VT). He has also served as the chair of the University Task Force on Race and the Institution and the head of graduate admissions for ECE.
 
July 2014
Apple Ridge Farm Visits Space@VT -- Space@VT, along with our Research Experience for Undergraduate (REU) students, hosted ~80 middle school kids from Apple Ridge Farm on Thursday July 17, 2014.
Congratulations to Space@VT faculty member Dr. Joseph Baker who has been tenured and promoted to the rank of Associate Professor.
 
March 2014
Research Spotlight: Exploration of Under-Ice Regions with Ocean Profiling Agents (EUROPA) -- EUROPA is an incredibly enticing target for exploration – the nearest reaches of what may be a vast new "habitable zone" of interior oceans warmed and stirred by tidal forces.
AIM Mission Extended through 2018 --

The Aeronomy of Ice in the Mesosphere (AIM) mission was extended through 2018. AIM is a NASA  satellite mission dedicated to the study of Polar Mesospheric Clouds – PMCs. The image shows several PMCs as viewed in the ultraviolet by AIM. The AIM Principal Investigator is Dr. James M. Russell of Hampton University. He is a VT/ECE graduate. Dr. Scott M. Bailey of Space@VT is Deputy PI. They lead an international team of researchers studying the AIM observations. AIM was launched in April of 2007.

PolarNOx Experiment Funded by NASA -- The Polar Night Nitric Oxide (PolarNOx) sounding rocket experiment was funded by NASA for flight in January of 2016. The image shows the same rocket experiment launching in February of 2011. PolarNOx uses stellar occultation to measure lower thermospheric nitric oxide during the polar night. It is led by Dr. Scott M. Bailey of Space@VT in collaboration with the Laboratory for Atmospheric and Space Physics at the University of Colorado, Artep Inc., and the Space Dynamics Laboratory at Utah State University.
 
June 2013
New NSF satellite study underway to improve communications, more.
Congratulations to ECE faculty member Dr. J. Michael Ruohoniemi who has been tenured at his currently-held rank of Associate Professor.
 
January-February 2013
Space@VT begins partnership with AMSAT, more.
 
2012 Annual Report
August 2011

Gregory Earle joins ECE and Space@VT as professor, more.
 
May/June 2011
College names Joseph Baker as Outstanding New Assistant Professor.
 
March 2011
Joseph Baker named Steven O. Lane Junior Faculty Fellow of Electrical and Computer Engineering, more.
 
January 2011
ECE team establishes data platforms at South Pole, more.
 
November 2010
One adventurous ECE Ph.D. student is studying space weather at the world's northern-most university, more.
 
September/October 2010
May 2010
VPT Inc. continues support of Space@VT program with third $15,000 donation, more.
Robert Clauer receives tenure at his currently-held rank of Professor.
 
April 2010
Space@VT featured on NSF 360 Science News, more.
 
September 2009
NSF Awards Space@VT $2 million to Improve Space Weather Understanding, more.
Space@VT Director Wayne A. Scales to study rocket-launched noctilucent cloud, more.
 
May/June 2009
Scott Bailey has been tenured and promoted to the rank of Associate Professor.
 
February 2009
J. Michael Ruohoniemi heads $6 million grant to build space weather radar units, more.
 
September 2008
Space@VT: An emotional tie, and three strikes of lightning later, more.
Researchers from music and engineering team up to turn big data into sound
Upcoming Events
No upcoming events at this time.